ok, my space squad spaceship exploration game is undergoing a shake-up at the mo. the experience from the game prototype challenge and making ElectroBLAM! was really useful and caused me to refocus a bit on the exploration aspect of 'squad game' (can't wait to give it a proper title :P)
ElectroBLAM! featured randomly generated levels, and I've taken this a step further this past week by improving the generation logic to create rooms and more interesting mazes, and also changing the generic tile blocks into various wall pieces (straight, corner, cross section, t junction, endcap, island and filler piece). here's a screenshot of where it's at: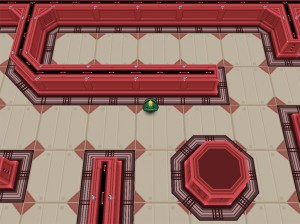 still looking pretty sparse but it's great to hit a button and see random room designs pop into existence! Also, going with the pixel art texture design seems like a good choice right now. not only does it look all cool and retro, but it should allow me to create a really diverse texture set for ships. plus I love pixelling! the texture at the mo is just a quick placeholder.